Fresh ideas, smart strategy and clear copy from an award-winning pro. Project or ongoing work for agencies, marketing directors and other professional communicators.
---
TOURISM & DEVELOPMENT

REAL ESTATE & HOME

HEALTH & HEALTHCARE

RETAIL, FOOD & GROCERY

TOYS & KIDS, FUN & GAMES

BUSINESS & INDUSTRY

ECONOMIC DEVELOPMENT


PR, Issue Campaigns & Events
Ads & Advertising
Packaging, Identity & Retail
Brochures & Collateral
Internet and Digital
Direct Marketing
Radio & Broadcast
Outdoor/Out-of-Home
News, Magazines & Content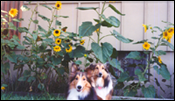 THE DOG BLOG
An Unauthorized Autobidography co-edited by BFF Spunky and Jasmine.
OTHER SITES
Route 66 blog
ilikeabe.com



Strategic
__>>>_Creativity

... knowing when (and whether) to color outside the lines, while staying on the right strategic page
---



Midwest freelance writer, digital and traditional copy.

Black-and-white basics or more colorful communications challenges.

Need a hand? Go with a pro. You'll get on-the-right-page writing within deadline-respecting timeframes.

Small jobs. Big projects. Long-term support. Services range from blog posts, landing pages and e-news to brochures, radio and print.

I'll deliver SEO web site content, CMS blog posts, B2B or B2C collateral and campaigns. News, press releases, and editorial, too. My writing expertise includes advertising, PR, creative tradeshow promotions and varied marketing communications.

I can write issue-campaign serious, travel-destination light, medical-center savvy or lamp-merchandising bright.

I write creatively when it's called for, but I'm practical, too. No gilded-lily concept for the discount florist. No Gettysburg Address on a billboard. No sentimental prose for the dirt-bike landing page.

Preview writing highlights below or check the menu on the side. Then call in a pro when you need black-and-white know-how and full-spectrum results. copycontact@sbcglobal.net

---

Branding, Sales & Packaging:

Ads, PR & Publications:

Digital Online Media: